Welcome to all who are interested in checking out our chapter. We are one of the oldest chapters of SDP starting in 1975. We hosted a national convention in 1980. Our aim is to educate our members in the many forms of decorative art. We look forward to greeting any and all new members and visitors.


Rocky Mountain Hi is thrilled to have been fortunate enough to set up an ongoing art program in association with The Brain Injury Alliance of Colorado, a non-profit organization offering various significant services to people of the Rocky Mountain region who have suffered traumatic brain injuries and are living with the after-effects. Our art classes are taught bi-monthly at the BIAC facility by several members of our chapter on a volunteer basis. Each of us who are teaching these classes has developed a profound sense of appreciation for the client/students because of their amazing resiliency, positive attitudes, lack of self-pity, senses of humor and gratitude. The people and the classes are truly a source of joy and pleasure for all who participate.
RMHi has organized several Art Shows of the client/student body of work. These pictures display the Art Show curated at the Lone Tree Recreation Center during the month of October. Another show was displayed at the Driscoll Center at the University of Denver in November. Each was very well received and admired by the community. Currently, several paintings are on display at the BIAC offices.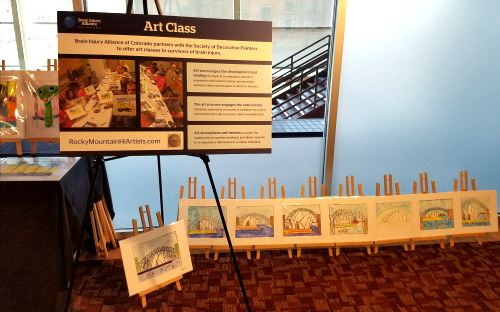 For more photos visit our BIAC page here


OUR MEETING LOCATION
Our NEW meeting place is at the
Garden Plaza of Aurora
14221 E. Evans Ave.
Aurora, Colorado 80014
General Meeting at 6:30 PM
Third Monday of the month
In the Multi-Purpose Room